Monica.
God has a funny way of bringing people together. Or maybe the world has a funny way of uniting us all.
I don't know which of the two, but whoever brought Monica on our path changed our lives.
My wife Joséphine and I met her in the Buru Buru estate, around the year 2000. She was walking around the estate asking for odd jobs.
Josy and I were a couple then and had just moved to Buru Buru to start a new life. She had moved in a month earlier and we needed someone to stay home to take care of my aging father.
Mom went to join the Lord two years earlier and it took a heavy toll on my taste buds. As the newest son, I suggested that he move in with me for at least some company. I also brought him back to the country, once a month, to allow him to have the necessary change of environment, a breath of fresh air and to allow him to see his cemetery.
My siblings also came to hang out with him. I was closest to his heart. Apple of his eye.
At 82, the only thing that gave him joy was seeing me.
"You look like your mother," he would always say, touching my head and reminding me of how young I was back then, hyper and the joy of their life.
Monica and Josy, who was my girlfriend at the time, immediately hit it off when we saw her. We parked the car near the freeway and the two talked for a while.
"Imagine if I didn't have to ask my cousin to come and live with us. I think Monica is a good fit," she said as we left.
"You just met her, Josy. You have to do a background check," I insisted.
Matatus at traffic jam along Waiyaki Way in Nairobi
Kenyans.co.ke
"I know baby. I know. But a good thing is she's from our backcountry. God has a funny way of bringing people together, doesn't He? She knows my home. I had just felt like we were connected when I saw her," an excited Josy couldn't hide her joy.
Two days later, Monica and her sister who resided on the estate passed by. Josy cooked a hell of a dinner and we got to know each other.
Its history in brief. She had two daughters, was 32 at the time, and had traveled to town to make ends meet.
For us, we were in our mid-twenties, hustling around the city.
Monica got the job and she was a blessing in our lives. I have read many stories of cleaners and employers having a difficult relationship.
For Monica, she was like our big sister, our friend. She was there for us when my father passed away in 2002, after helping to care for him in his final years.
Was there for us when Jamima was born in 2004. You should see how she recently turned 18.
She attended our wedding two years later and helped us raise little Jamima. Monica was a family. She and my wife bonded, you would find them cooking together, helping each other clean the house.
She never complained and we never mistreated her, before her eyes and before God. In return, we helped her daughters go to school, paid their school fees and treated them like our own children.
We helped her save money and we increased her amount every two years, in addition to other benefits. Josy also enrolled her in a nearby sewing school.
During the 10 years we lived together, I guess we only corrected her a few times. She was raised well.
Heartache.
"Monica wants to leave and she feels she has found the right man to be with her," my wife Josy told me as we sat up in bed that night. "At 42, it's not too late for her to settle down, she's been a blessing," she added.
My heart broke, my then 6 year old daughter cried and fell ill a week later. We felt like a part of us was gone.
Josy's cousins ​​came to live with us. Both were studying at CBD colleges and they helped us. For Monica, we threw her a party, paid her in a lump sum, and still kept in touch. At that time, we had a lot of projects and my wife and I were a bit confined.
This year, around the beginning of February, she offered to meet her. It was nearly 12 years after we last saw her. She had moved to South B where she ran a fashion and design business.
Our plan was to surprise her with a motorcycle we bought to help Monica's husband run errands and a sewing machine for his shop.
We had already bought the presents but Bram, my colleague, improved the plan with an idea he gave me as we were discussing the Premier League results last weekend. Bram is a huge Arsenal fan and he urged me to try the new offer on Sportpesa as my match predictions were almost always correct.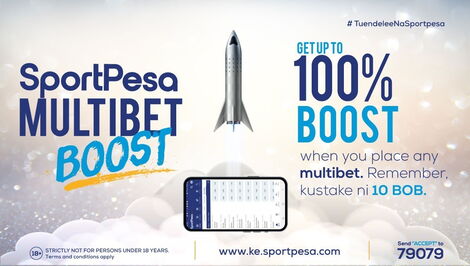 A Sportpesa advertisement on the Multibet Boost campaign
Sportpesa
"Sportpesa has an exciting new feature called "Multibet Boostfor its customers which allows you to earn up to 100% more on earnings. The new feature is activated when you place more than two bets with odds of 1.20 and above and it simply allows you to increase your winnings when betting on accumulator bets," Bram detailed.
I asked if the bonus was free and what the minimum bet was, and that was some of the best news I've ever heard.
"This bonus, calculated as a percentage, is accessible to all customers provided they meet the qualification conditions. Stakes are as low as 10 shillings which can always be enjoyed the Multi Bet Boost.
"The 100% boost is reached when your multibet reaches 20 games. This percentage is placed on your eventual winnings. The maximum bonus is only reached for a bet slip of 20 games," he added.
According to Sportpesathe more selections you add, the greater the boost you will get.
Boom! genius. Bram and I sat down and analyzed some matches and the question from him was, "What are you going to do with the bonus?"
"Brother, you wouldn't want to know. Change someone's life. I answered. With the bonus we bought some Ankara fabric and added an extra shopping voucher.
Josy, my daughter Jamima and I, as excited as we were, set off for South B.
The reunion was quite moving. The three ladies burst into tears as they hugged each other. I sat next to it and took pictures. Memories of a lifetime.
"I love you all," cried Monica, under the admiring gaze of her four employees.
Some people change our lives. Celebrate them while they're still alive.