Two months before the 50th anniversary of the declaration of martial law, activist groups on Thursday staged a campaign to counter what they called "distortions" of the history of the Marcos dictatorship regime since the era of martial law down to Ferdinand Marcos. Fall in 1986.
The [email protected] The campaign, as the movement is known, was launched at Quezon City Sports Club amid controversy over a film about the Marcos family's final days in power which is due to be screened on August 3.
Groups involved in the movement include the Campaign Against the Return of the Marcos and Martial Law (Carmma), the National Union of People's Lawyers (NUPL), the Student Christian Movement of the Philippines, the University Repertory Company from the Philippines, Tanggol Kasaysayan, Desaparecidos, Selda, Bayan, Karapatan and Courage.
Leading this campaign are detainees from the martial law era and human rights defenders, such as Bonifacio Ilagan, Judy Taguiwalo, Joel Lamangan, Satur Ocampo, Liza Maza, Carol Araullo and Edre Olalia, among others . Taguiwalo said any commemoration "must not only be rooted in revisiting the past, but also in taking a stand and continuing to fight historical denial and deception."
Marcos declared martial law on Saturday evening September 23, 1972, although it began to be applied on Friday evening, according to a historical account of this episode on the Official Gazette website. The statement was later backdated to September 21.
Raising awareness through art, culture
Lamangan, who was tortured while incarcerated, said, "I grew old in this struggle and yet we have no intention of stopping now, even though we now have wobbly knees and weak eyesight.
In the center of the [email protected] encourages wider awareness of this historic chapter through arts and culture. Thus, the organizers plan, among other activities, festivals, exhibitions and workshops on martial law.
Lamangan called on other artists "not to join the ranks of those who help cover up the truth."
"Let's instead help young people understand what really happened before," he said.
The multi-award-winning director and stage director has expressed his "disgust" at the upcoming "Maid in Malacañang", which takes place during the last 72 hours of the Marcoses at the Palace in the midst of the people power revolution of February 1986.
But he said he would watch it anyway to see how its director, Darryl Yap, handled his subject.
Critics of the Marcos expect the film, which is being promoted as a dramedy, to be another attempt to contradict historical facts about their reign.
"It was time for us to tell our story"
But Senator Imee Marcos argued that their assumptions are "totally inaccurate", adding that "it is time that we also tell our story about what happened in Malacañang, … about what we know".
Eldest daughter of the late strongman, the senator is the film's chief consultant. In an online press conference last month, she said, "We're just telling the story that we know, from our perspective. We don't change anything they say. We do not review anything. It is completely inaccurate to say that. We simply explain the events of our last three days to [the Palace]."
"And I think people have a right to know what was going on at the time," she said, adding that "[U]Fortunately, there will have to be truths told and lies, finally demystified.
It was Yap who pitched the concept for the film to Viva Films after his initial discussions with Senator Marcos.
Yap said he wanted to portray the Marcos as "normal people or family".
'Family movie'
"They're either glamorized or deglamorized, it's like they're not real people. So I thought why not give them a chance to show what they were like at the Palace as a family, without going against, criticizing or casting a negative light on what people know is quote-unquote history ", did he declare.
"Maid in Malacañang" is first and foremost a "family movie," Yap said. "Every family goes through moments, moments of laughter and a good deal of drama. It's a family film… We will show the relationship between a couple, between brothers and sisters, and how a family unites in times of crisis.
Yet despite this claim, Yap also sees his film as something that will "fill in a missing piece of our story."
"And who better to tell their story than a Marcos?" said the director. "Kapag can fact check na nangyari ikababaliw ko 'yan kasi wala naman sila sa loob ng Malacañang during this period." (Any attempt to check the facts, I will dispute because the [critics] were not there in Malacañang at that time.)
"Creative vision and freedom"
A scene from 'Malacañang' already circulating on social media has prompted fact-checking historians and other commentators to question the depiction of gatherings outside the palace carrying torches, which the 35-year-old director said to be a touch of "creative vision and freedom."
There were also social media posts criticizing the late President Corazon Aquino who shared a screenshot of a woman in yellow, her face cut from the image, with the caption "Get them out of the Philippines".
This prompted the late president's defenders, in turn, to cite the book "People Power: An Eyewitness History," in which the late Associate Supreme Court Justice Cecilia Muñoz Palma wrote in her article that, unlike the insult to Aquino, she was actually open for the Marcos to be flown to their home province of Ilocos Norte for two more days before they were flown out of the country.
A little-known "sidelight" about this episode — according to Nick Joaquin's "Quartet of the Tiger Moon," his report on "the people power apocalypse" — was that "Mr. him and it wasn't until a month later that Doña Josefa was located at the Philippine Heart Center in Quezon City, a patient there, it turns out, over the past eight years, she's accumulated bills. already amounting to more than a million pesos when his son fled the country…".
The New York Times reported in March of that year that "President Corazon C. Aquino's new government agreed to foot the bill 'for humanitarian reasons.'"
"A Piece of Trash"
Asked to comment on the upcoming film, award-winning activist and actor-director Bart Guingona said, "They should approach it like trash."
"The need to saturate all the media…with lies is a tactic. This is called the fire hose. If you hear a lie often enough, you start to believe it's true, or at least you start to doubt your old certainties.
"Instead of playing games with their hands, trying to debunk their lies, although that also has its uses, we must continue to tell stories that convey the truth. We must recruit our art[s] and artists in defense of the truth. But because the arts have always only reached niche markets, we have to play where the fire hose plays, social media," Guingona said.
Historian and Inquirer columnist Ambeth Ocampo, who faced online bashing after scolding 25-year-old 'Malacañang' star Ella Cruz for comparing the story to gossip, agreed with the statement. idea that social media should be reclaimed in the name of truth and accuracy.
"I think historians should engage in this, I do my part in my social media pages but that's not enough. If people want to believe fake news and historical distortion because they don't have no choice is one thing, but to reject history and truth is their madness and our collective unhappiness," Ocampo said.
"The Marcos have cleverly rebranded themselves since their return," he further noted. "We see that when Borgy Manotoc became a signature Bench model, we should have seen early on how they were rebranded from a disgraced political family returning from exile into media and social celebrities. Do you remember Senator Imee on the cover of Tatler? From Ferdinand Marcos to BBM is a masterstroke, it's as if Kentucky Fried Chicken downplayed the unhealthy word "fried" and renamed itself "KFC."
"So how do you fight this? Get to know your story, not from YouTube and TikTok, but from verified historians and journalists. Knowing the past, the correct past, is the first step in the proverbial journey of a thousand miles," Ocampo said.
gsg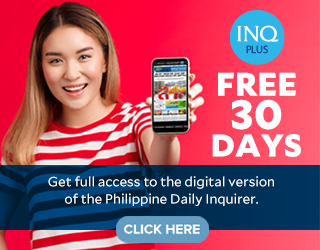 Read more
Subscribe to INQUIRER PLUS to access The Philippine Daily Inquirer and over 70 titles, share up to 5 gadgets, listen to the news, download as early as 4am and share articles on social media. Call 896 6000.